Warning!If the Air-dam heat deflector mounted on top of the engine cylinders is missing or damaged the excess heat can affect the coils causing all sorts of problems like limited Revs,Misfiring,rough idling.

A couple of weeks ago I had a coil failure on my CX500.It showed itself as limiting/bogging down my speed to 60 mph almost as if the High speed Stator windings had gone and sometimes only on one cylinder
especially in the rain
.After checking all the Stator and CDI readings I eventually tested the coils and plug caps.The right hand side coil had gone,"High Resistance" as had the Plug cap.This also manifested itself 1st when riding in the rain or damp as one side of the engine not firing.
The good coil tested 7.5k approx between the LT wire and the HT wire.The decent plug cap had continuity as it should as my plug caps don't have Resistors in them.
Note:Even if the coils have these readings that's no guarantee that the coils are 100% as they can break down if faulty when they get warm.
http://globalcxglvtwins.hostingdelivered.com/viewtopic.php?f=8&t=84
I only had one good-ish coil and plug cap left in my old spares box.They kept me going.I started looking where I knew for some new coils.Wemoto
http://shop.wemoto.com/index.dyn?oid=1911758
,who are very good,have them but for a pair they come to over £50 UK pounds.Having researched CDI Ignition over the years I discovered that the coils used on older Vehicles with,"Points" ignition are the same.They did however have the plug caps at a decent price so I bought a pair.
I took a gamble on a Universal CDI coil off
UK
Ebay,
http://cgi.ebay.co.uk/UNIVERSAL-IGNITIO ... 41586b1a65
But these International ones will work,
http://www.ebay.com/itm/Ignition-Coil-Y ... 1e&vxp=mtr
I had to cut the HT cable a little and make a bracket which I made sure was bare metal at both ends to ground the Coil correctly at the mounting holes and also fit a spade connector to the old Pink right hand side wire I ripped off the kaput coil.The coil has now been running for over 200 miles and no problems thus far.
It's Resistance reading is 5.5k ohms between the LT and HT wire.It's a lot smaller than the originals about half the size,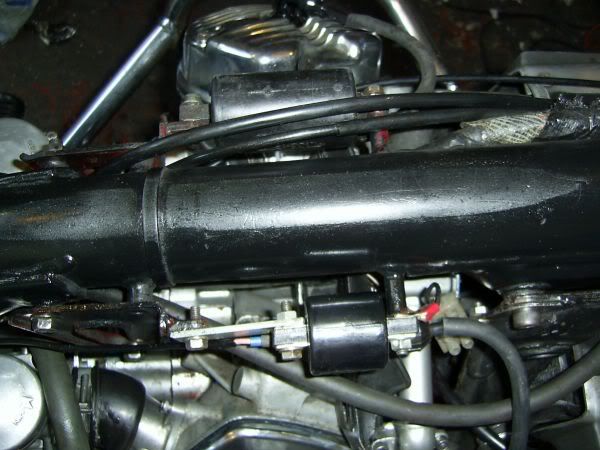 It has now been on the bike nearly a year with no problems.
You can get them of Ebay,