Quite often it gets posted that a user's bike has a clutch rattle.If you have an engine noise the gets quieter or disappears when the clutch lever is pulled in this could well be Clutch Rattle.
Ist check that the cable moves freely and is adjusted correctly(See manual)replace if suspect.Best cables I've used are carried by Wemoto in the UK called,"Slinky Glide",
http://www.wemoto.com/bikes/honda/cx_500_a/79-80/
Who are a trusted international supplier of the highest standard.
The clutch end cable nuts should both go on top of the small arm,not either side of it.

Note:The Four bolt retaining the mechanism only need a maximum torque of 10 Ftlbs so be careful.I use decent hand tight by feel and you can use a little Blue Loctite/Thread-lock.
You can use a cold chisel and a hammer to remove the castle nut and tighten it back up and it's thrust washer is underneath underneath.There is a special Honda tool and or you can make one from a large enough socket if you so wish.
This is commonly caused by small metal burrs on the clutch basket and or the tangs of the clutch plates not allowing the plates to settle back correctly.You can remove the five bolts that secure the Clutch cover and remove it .There is a special tool for removing the Main large clutch nut but in an emergency a cold chisel and hammer can be used to remove and re-fit the large nut and some people have made their own tool out of a large socket.Also take note of the Clutch actuating thruster(Looks like a small Metal Mushroom) and it's locating spring.These must go back in correctly on re-assembly otherwise the clutch will not operate.
Take note of the large thrust washer underneath the Clutch nut on removal.Take the clutch unit out as one unit with the plates and also a large Tube type thrust washer may come out with the clutch so be wary of this.See
manual
or use this Parts-fiche to make sure you know the order of things,
http://www.cmsnl.com/honda-cx500a-1980e ... t/E10.html
The clutches and plates are the same for all CX/GL500 models.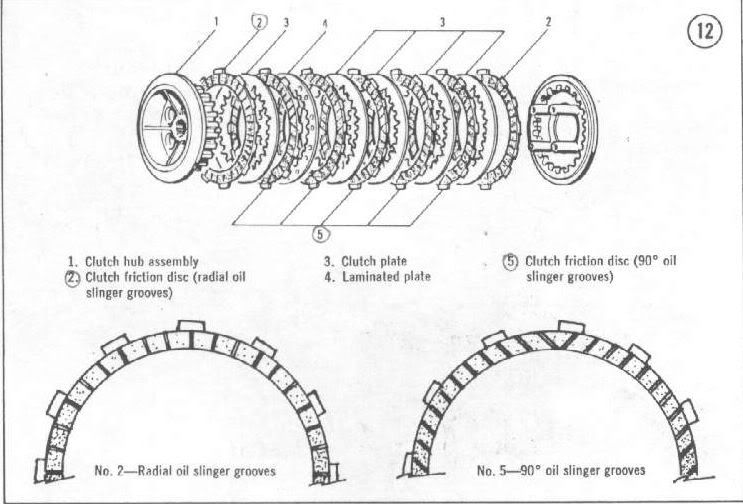 Using some emery cloth or a small file you can make sure all the Tangs on the clutch plates are free of burrs and do the same to the clutch basket.You can then drop the plates in to make sure they slide freely.Their final reassembly
MUST
be in the correct order as per the picture above.
If you cannot get a new clutch cover gasket you can use 0.8mm gasket paper and make your own as per,
http://globalcxglvtwins.hostingdelivere ... ?f=9&t=255
I have even used Vinyl wallpaper in an emergency with RTV gasket sealer.The gasket thickness for the front clutch cover is not as critical as the thickness for the rear engine cover but must still be no thicker than 0.8 mm around 5/64"
Note:A sticky clutch cable can cause problems similar so make sure it's operates freely and either lubricate or replace and also make sure it's correctly adjusted at
BOTH
ends.
Tip:You can decontaminate the clutch plates by placing them in a big Pan with some Washing up liquid/Washing soda crystals and boiling them up for half-an-hour.Also soak in Carb Brake cleaner before doing so to aid deposit breakdown.