There are 2 basic types of carburettors used on the CX/GL 500 motorcycles.There's no point going by seller's Year reference as the carbs may have been changed.
All you need to know is.
Type 1:
No metal Brown/Cream/Orange floats and the float needle valve just slides into the Float.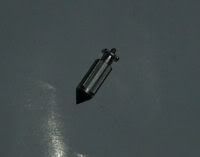 Type 2 :
Black floats with metal top part and the float needle valves have a small Metal spring on them that hooks over and onto the
float.
The Primary and Secondary Main jets are the same e.g 78 and 112.
The 78 jet goes directly into the Carb body.
The 112(115 jets gt supplied in some kits but I've never used them) go into the Brass Hex holder.
You can get the kits of Ebay just make sure you pick the right one e.g float needle valve to match your floats.All the other parts/o-rings etc in the kits are interchangeable.
Note: On these bikes you Screw the idle screw adjusters

Out

towards the carb body to

Enrich

the Mixture and Screw

In

to make it

leaner!!



The metal type floats are adjustable so you can set the float heights at the correct 15.5mm from the perpendicular.
The None metal types are not supposed to be adjustable but can be adjusted using a Hairdryer to warm them a bit and then
pressing them either way required so that when they return they return to the 15.5mm from the perpendicular.
See here,
http://globalcxglvtwins.hostingdelivered.com/viewtopic.php?f=19&t=110
.