Written by Steve in PA
Original here for questions.
http://cx500forum.com/index.php?/topic/ ... sion-work/
Material list:
1@ XVS1100 used shock 2005 and later (from the Bay)
1@ 27/64 drill bit
1@ 12x1.25 tap
1@ 25/64 drill bit
2@ 1/2"o.d. x 3/8"i.d x 1"l. bronze bushings
1@ 2"x2"x 1/4" angle, mild steel (2 1-1/4" slices) for the clevis
2@ 1/8"x1-1/2" x 1/2" (hole) fender washers
2@ 3 hole exhaust flanges (I forget which size) plus threaded rod and nuts/washers for spring compressor
Misc. supplies incl. flux core welding wire, red threadlocker etc.
I read on the forum that the Yamaha XVS1100 shock works to replace the Honda shock on the GL650 in some posts by guzzijohn.
I bought a 2005 Yamaha XVS1100 rear Shock off the bay for $52. Removed the clevis and fabricated a new one that fits my GL. I needed to heat the clevis to get the threadlocker to let loose. I made a spring compressor from some exhaust flanges and some threaded rod.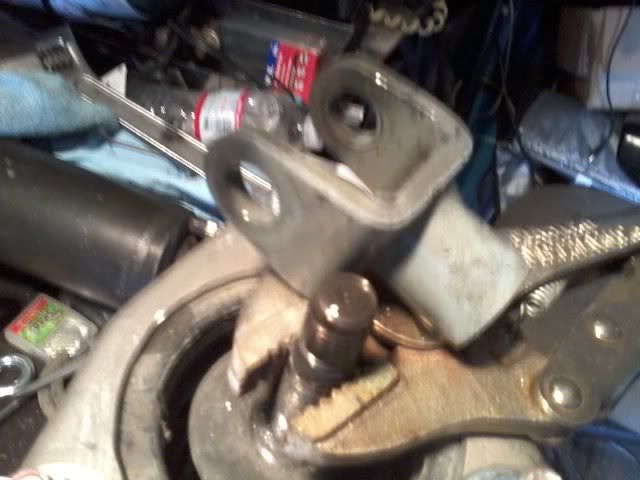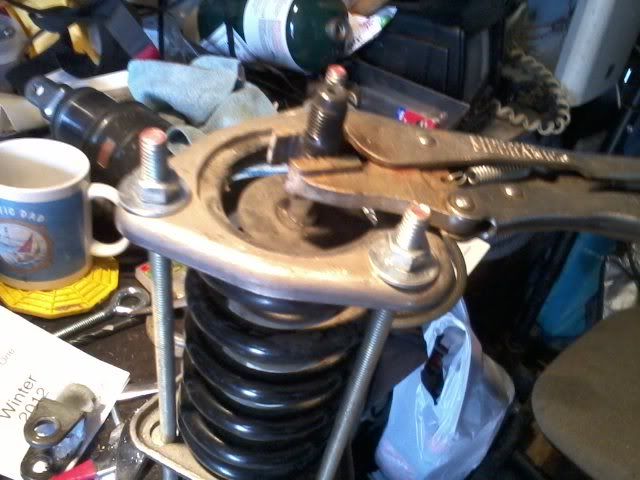 The new clevis was made from a piece of 2"x1/4" angle. I cut 2 slices 1 1/4" wide and welded them together. I then drilled and tapped it with a 27/64" drill and a 12x1.25mm tap.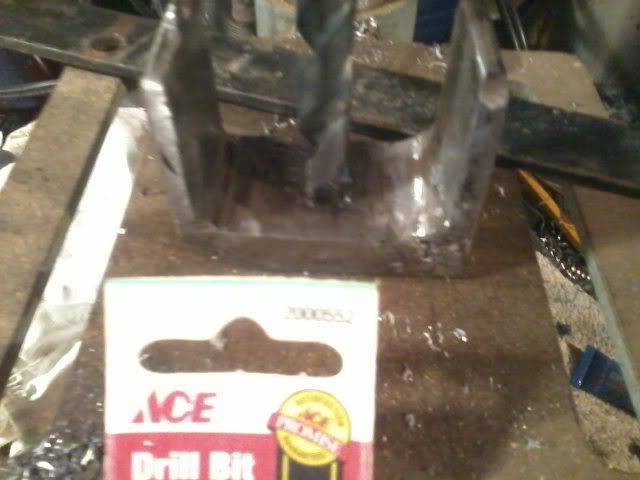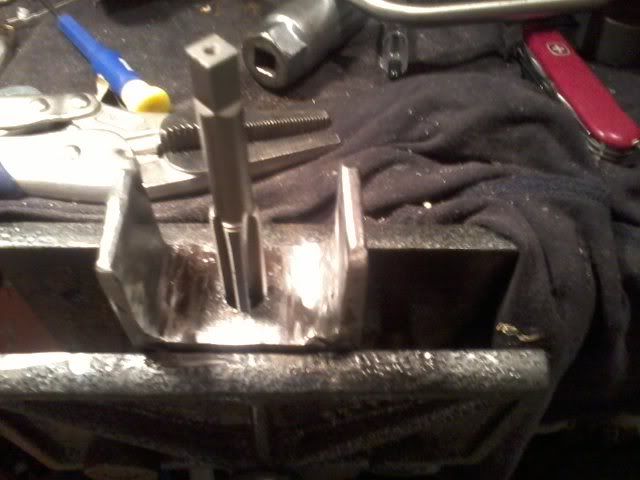 I then used 2 washers for clearance and threaded the new clevis onto the Yammi Shock, using red thredlocker.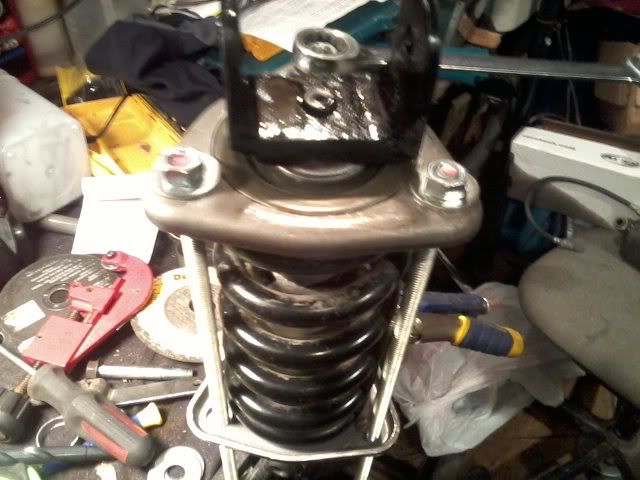 Voila! very close to the same length as the oem shock (1/8" longer eye to eye)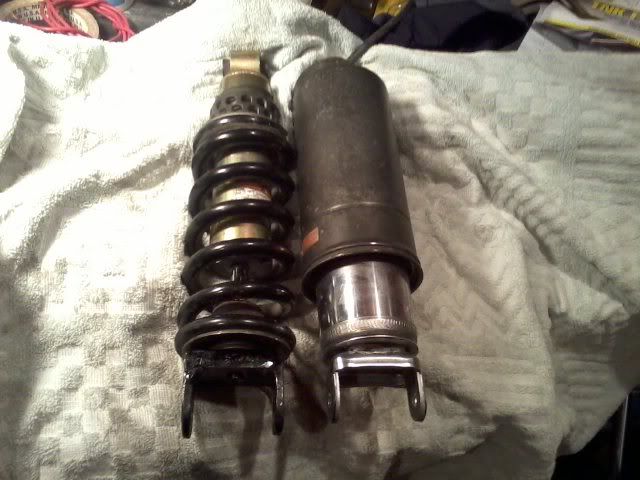 I removed the stock shock and serviced the pro-link. I don't have a lath or regular machine tools so to re-bush the Yamaha shock I had to improvise. I used some 1/2" x 3/8" bronze bushings from my local Ace Hardware. They were too big in outside diameter and too small inside. I started by putting a bolt through them and chucking it it a drill. Then I used a vice grip as a cutter. It actually worked really well and took about 10 minutes to reduce the outside diameter to a press fit in the Yamaha shock.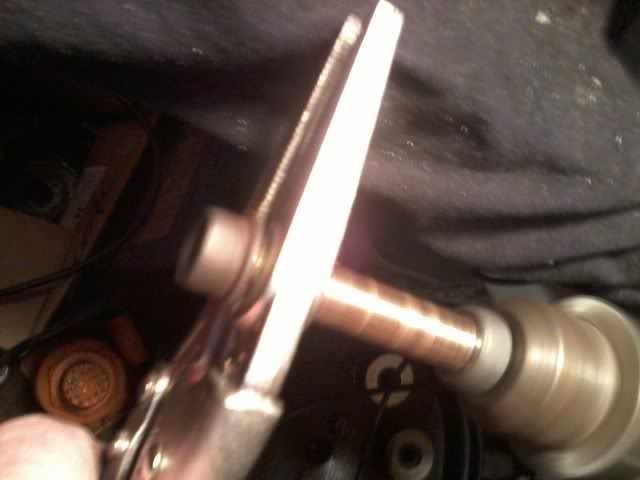 I used a big c clamp to press the bushings in and cut the extra off, then used a 25/64" drill bit and drilled the i.d. to the proper diameter.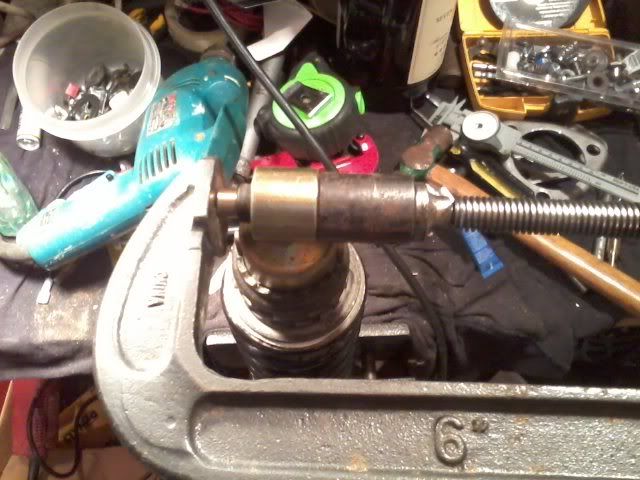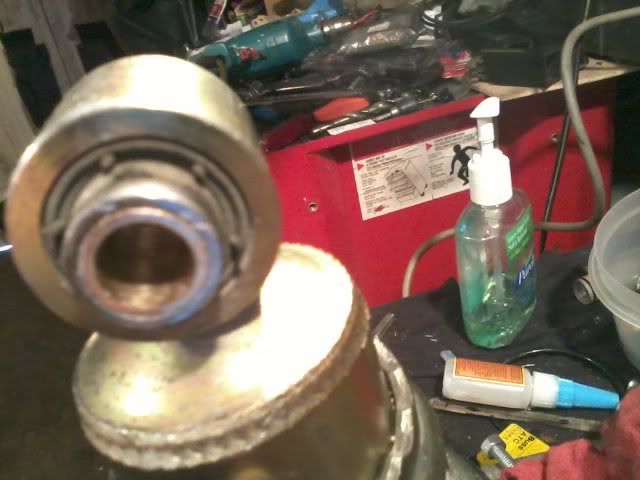 The Yamaha shock fit perfect. I set the spring pre load halfway. I think I will be able to insert a screwdriver through a gap and adjust the preload. The preload adjustor can be seen next to the regulator. I will try it out tomorrow.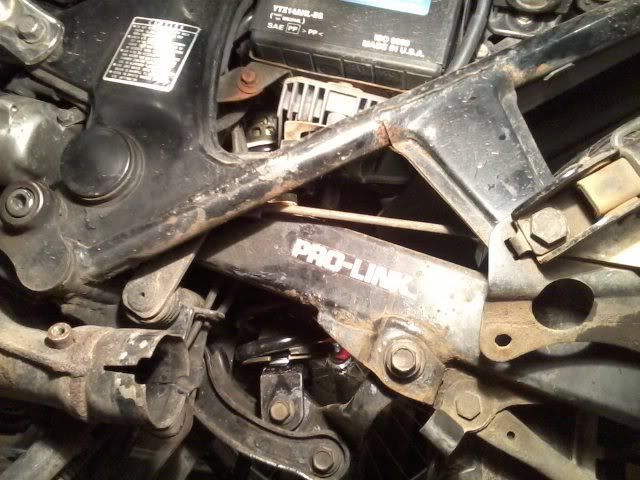 I took a ride today on a bunch of back roads that I usually avoid because they are very bumpy. I have to say the Yamaha shock is a major improvement over the OEM. Much smoother. A lot of the harshness I had been blaming on my forks wound up being eliminated by the new shock. Between the XVS shock and the new race-tech cartridge emulators and springs the old GL is riding very smooth. Handling is also more predictable.