It had been theorised that the cheapo G7 250W stators (wemoto £35 on a good day) can be used with an ignitech. They can indeed! got mine running today. Not many issues but I'll run through anyway. Firstly, this is the stator in question:
Leads are plenty long enough, but connectors that come with it are female and need to be male. Not too much of an issue if you have the old wiring (which I didn't - kindly supplied by reggie as was copious amounts of help) Also that black tube IS NOT heat shrink (ask me how I know, gwan, gwan, gwan) So you'll be needing some of these:
Get them from autoelectricsupplies.co.uk or ebay (towzatronics does good multiple postage discount, think they were listed as 6.3mm - DON'T get the ones they sell at wilcos - they're too short. These ones will actually be longer than the ones on the bike but only slightly and they fit just fine. I have some[/i] spare if anyones desperate but only some. You remove the old ones from the block by sticking a fine screwdriver in the indent of the slot holding the blade from the connecting side and pushing the old blade through - here I've used needle nose pliers and balanced the camera on my ears (does it show?)
Next issue, the G7 doesn't have an inbuilt earth, but since you now have a big empty space at the rear of the engine where the advance pulser was and you'll have plenty of room in the mini loom in a minute you can wire an earth there. Heres the original mini loom:
Now the top left pale blue arrow is your blue/white coils - this needs pulling out, the lower blue arrow is the stator coils which need replacing with the lovely white ones on your shiny new stator using the spade connectors above. The green bracket shows the neutral light switch which I've actually wired seperately since I resleeved the mini loom and it was tidier my way. (don't have to follow me though)and the bottom yellow arrow is your earth which can be wired to one of 3 screw holes in the very rear of the casing where the advance pulser was: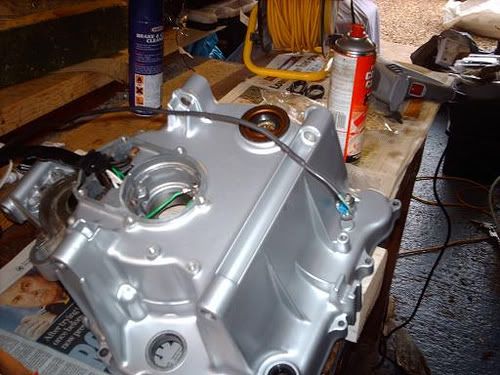 Then you can strip out wires on pins 3 and 7. I stripped these completely from the mini loom and ran new earth wires through (had to widen a couple holes in the plastic grommet and sealed any redundant ones with black silicone) So my revised mini loom looks like this: (Ignore the scotchlok, following advice from Reggie on multiple redundancy of Earths, i actually ran 2 earths from the engine case in the end, one for the ignitech and one to the main earth strap.
Then I dry fitted everything, use same torque values as original which I think were 10 ft lb and stick a meter on EVERYTHING! using the pin out above, though now you're only worried about pins 1-6 which should be all you have left. And the white wires from the stator where you want high resistances on all phases of the stator to earth and about 1-1.5 ohms between any two phases. Putting it all back together - my stator was actually slightly bigger than the original reducing all round clearance between it and the rotor from 2mm to 1mm!!! however this didn't seem to be an issue and nothing has fouled. Since I was tidying my loom anyay I've done a dedicated feed to the red for the ignitech. Then it's just follow the new club anthem: "White to Yellow, Orange to Pink, Green to black and white"[/i] Plug the "new" connector block from the stator into the reg rec, and main connector from mini loom to ignitech and Bob's yer Mother's Brother. So here's the video of it running for 1 second cos I can't use my camera properly:
http://www.flickr.com/photos/36595080@N07/3550617375/