It's a common subject that come ups on these bikes that the braking is inadequate.Although not Earth shattering when correctly bled and with good quality Pads(I recommend EBC) they can be fit for the job.
Modern Steel Braided lines are superior to the older none Sleeved type.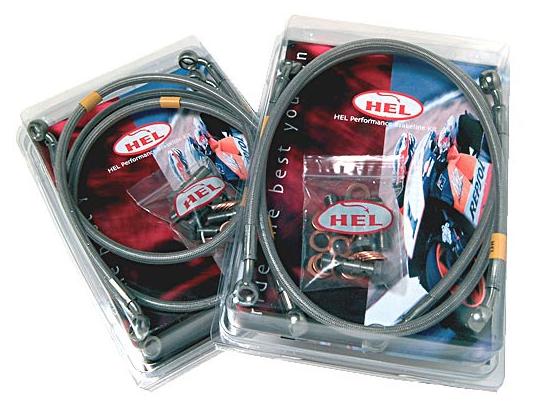 Also sometimes the brakes have not been properly bled.A common occurrence is that the holes in the Master Cylinder can become blocked a reduce braking and also Sticky Calliper pistons.
For the pistons I take the callipers off and pump the lever until most of the piston is out and then Carb/Brake cleaner de-grease them and then polish them with some fine metal polish and clean off.Then on re-assembly I use some Molybdenum Di-Sulphide lubricant and smear a thing film on the pistons.You can use clean Brake fluid.
I compress them back in with a C/G-Clamp.Then fully bleed the system including below.
Another common problem is blocked holes in the Master Cylinder.The MC should be thoroughly cleaned out and if need be the holes poked out and High pressure air blown through or at the very least Carb/Brake cleaner Aerosol cleaned after clearing.
Then you need to get the new Fluid to pump through the Master Cylinder and this can be a chore.Some people tie the brake lever and leave overnight however I now use much simpler methods that are almost instant method
Protect your paintwork 1st



1:Kung Fu Hand Method:

Top up the MC.Open tight hand calliper bleed nipple with 6mm rubber/plastic pipe into jar with a couple of inches of brake fluid in it so pipe is submerged.If not allergic smear some brake fluid on your hand.Place palm onto MC top and press to form seal.Squeeze pump the lever until pressure comes through and the fluid starts to come through the bleed nipple.Then bleed system as normal.


2:The Banjo Player:

Unscrew MC front Banjo bolt.Place Thumb or Finger on the front MC hole and then pump the lever until the fluid comes through and tries to push your pinky away.
You may have to release your digit lightly and press it back whilst you do this and slow to medium pump the lever.
When you feel the fluid flow you have to get the Banjo bolt back in really quickly once the fluid flows and allow as little air as possible into the MC via the hole.Bit tricky but works!!!Wash hands off when done.

Continue to top up MC and open left or right hand bleed nipple with,"One-man-Brake bleed kit or as I do a length of pipe into a Jar with some brake fluid in it to stop air getting back in whilst bleeding ".
Now bleed right hand side if dual Disc.Then return and re-bleed left hand side to make sure.
Both my CXs brake well good enough for me and it also helps that I have 20w,"Heavy"fork oil in them as this really improves the damping on braking and handling no end.
I use Dot 4 Brake fluid.
Note:If the system is not correctly bled the brakes will be spongy and no good.
Note:If neither of these systems work then it most likely your MC is faulty.Repair or replace.
HTH